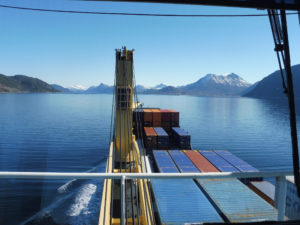 At the moment it is still the case that tourist travel is discouraged and tourist overnight stays are not allowed. This also means that cargo ship travel and inland waterway travel are not permitted.
The following applies to inland waterway trips: as soon as hotel overnight stays and other tourist trips are allowed again in Germany, passengers will presumably also be allowed to come on board again. As things stand, the prerequisite is a negative Corona test shortly before the start of the voyage.
Cargo ship travel: It is slowly becoming apparent that people who have been vaccinated against Corona will soon be able to travel again. Some cargo ship operators have already signalled that they will soon take vaccinated persons on board. The prerequisite, however, is that the individual countries visited by the cargo ships on the respective route allow vaccinated persons "free entry" again. For this, among many other aspects, it is necessary that the vaccination certificates are mutually recognised. We hope for a uniform regulation in Europe soon. If and when travel will be possible again for non-vaccinated persons is unfortunately not yet foreseeable. The only thing that is certain is that – at least this year – a Corona vaccination will make travelling much easier.
You can see the current status of the bookability of the individual trips in the trip overview – there we have set the status in the heading and assigned a traffic light colour to each trip.
We look forward to hearing from you and advising you!
If you would like to be informed when sea voyages are possible again, register for our newsletter.
You can access our current newsletters here: Newsletter Archive
You can still reach us by phone at the following times:
Monday from 10.00 to 13.00, Tuesday from 13.30 to 16.30, Wednesday, Thursday and Friday from 10.00 to 13.00. For inquiries outside of these times you are welcome to make an appointment with us.
At any time, even outside these hours, you can send us an e-mail:
mail@frachtschiffreisen-pfeiffer.de. You will receive a prompt reply to your inquiries.
Our team wishes you all the best – please stay healthy!