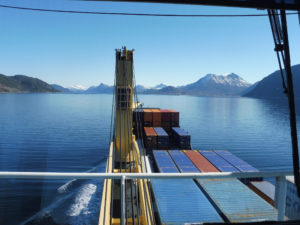 We must continue to wait until hygiene measures and vaccinations bring progress in travel. But we are sure that step by step normality will return to passenger travel.
You can see the current status of the bookability of the individual trips in the trip overview – there we have set the status in the heading and assigned a traffic light color to each trip.
That is why we are looking forward to new contacts and inquiries!
If you would like to be informed when sea voyages are possible again, register for our newsletter.
You can access our current newsletters here: Newsletter Archive
You can still reach us by phone at the following times:
Monday from 10.00 to 13.00, Tuesday from 13.30 to 16.30, Wednesday, Thursday and Friday from 10.00 to 13.00. For inquiries outside of these times you are welcome to make an appointment with us.
At any time, even outside these hours, you can send us an e-mail:
mail@frachtschiffreisen-pfeiffer.de. You will receive a prompt reply to your inquiries.
Our team wishes you all the best – please stay healthy!