What to expect at sea? How will I live aboard a cargo ship? What should I know?
You will find a brief summary of the most important information under Characteristics of freighter voyages.
INDEX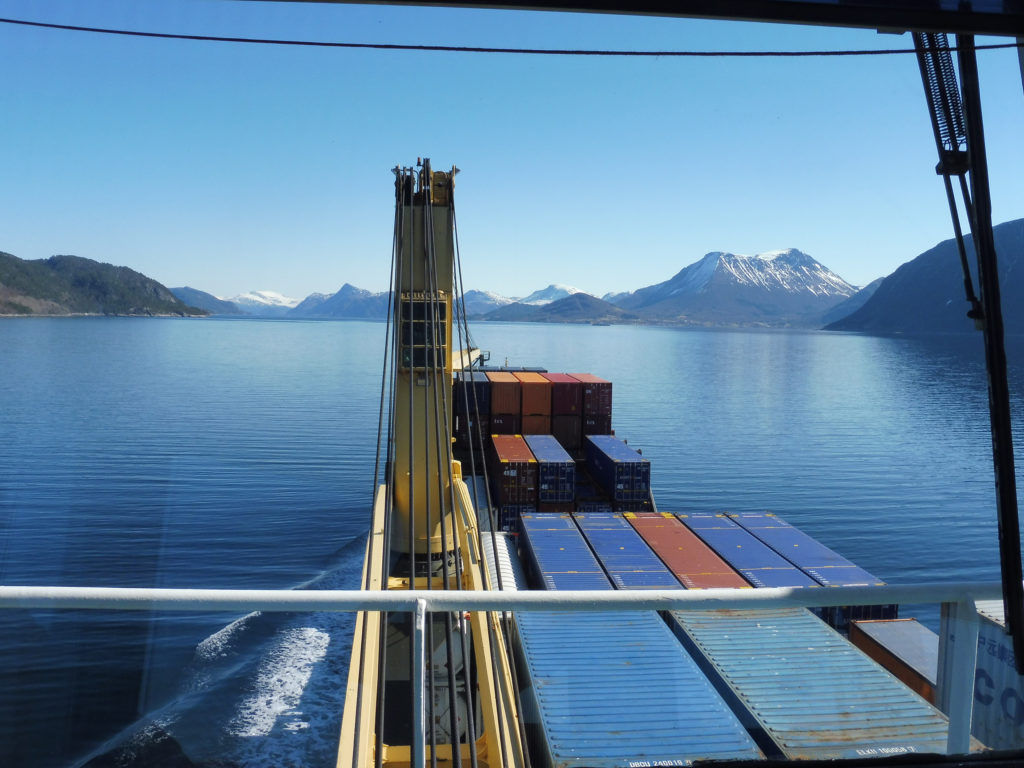 Additional costs
There are small additional costs on board. Drinks are available at moderate prices. In case of shore leave there will be costs for the transfer through the port or/and taxi/bus costs for the trip to the city.
Advice
We are happy to advise you and answer your questions. Call us, send us an e-mail or a fax (to the contact form).
Good advice is better than misconceptions or a bad experience. We ourselves have made many freighter voyages. Profit from our travel experience.
Arrival
The departure times of the ships depend on the cargo and the situation in the ports, which is why there may also be delays at short notice. Please discuss with us the type and time of your journey to the ship and make sure you can be reached en route.
The container terminals in particular are often located further away from the city centers. For the most important ports of entry in Europe you will receive special port descriptions from us with the respective addresses and the various parking possibilities. The parking of the car near the gatehouse is not guarded, but so far we have not heard any unpleasant surprises.
In general, it makes sense to travel by plane or train. Do not buy tickets until shortly before the departure of your ship, or make sure that they are changeable and cancelable.
Bicycle
Bicycles can be transported free of charge on most ships. Please specify when booking. The passenger is responsible for the transport from the port to the ship and vice versa. In some ports there are additional costs for transport within the ports. Please pay directly on site.
Bridge
Usually it is always possible to stay on the bridge. On some ships there are certain times for visiting the bridge. There are sometimes restrictions for certain maneuvers or some weather situations (such as fog).

Cabin
You do not need to bring bed linen and towels, both are provided.
On the cargo ships, passengers are accommodated in outside cabins with their own shower/WC. On some ships there is also a separate living room available (see voyage description).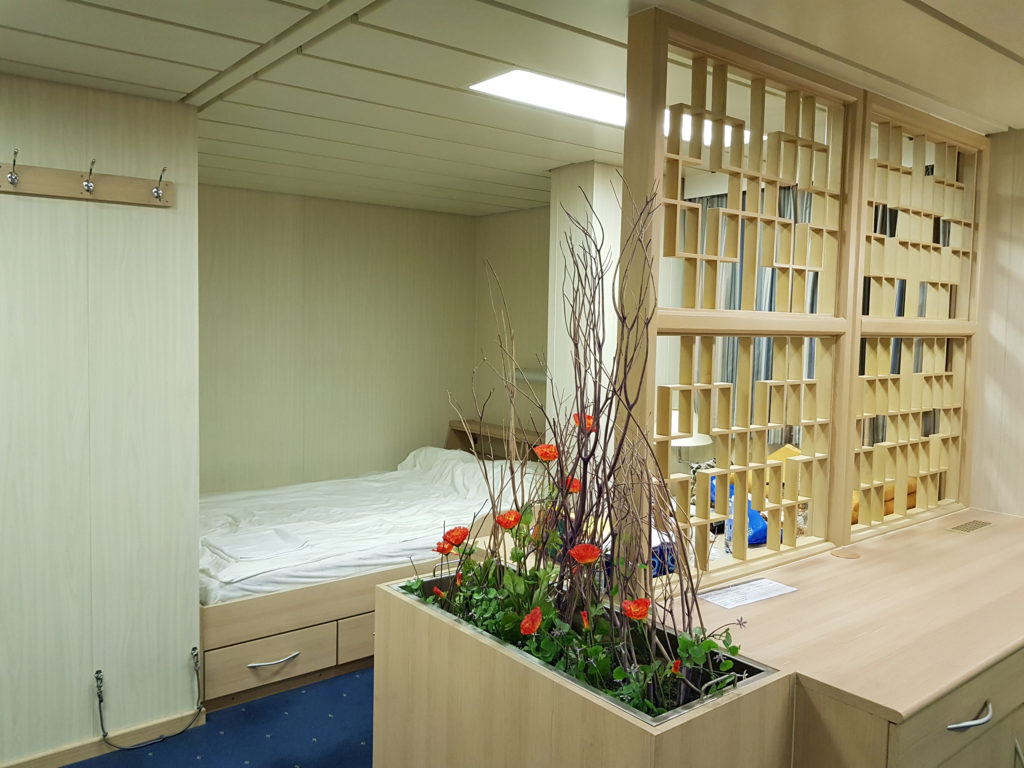 Captain
The captain is the main person responsible on board and official representative of the shipping company. His instructions must be followed without question.
Cargo
On cargo ships the cargo always has priority. Generally, the shipping companies and we do not know which goods are transported in the containers.
Cars/caravans/motorbikes
You want to take a car, a motor-home or a motorcycle with you? This is possible in principle, but the transport has to be handled by a sea freight forwarder and takes place on container ships in containers. You can find appropriate shipping companies on the Internet. On the Ro-Ro (Roll-on Roll-off) ships offered, the vehicles are driven onto the ship. There are also special forwarding agencies in this field.
Catering (see meals or vegetarians)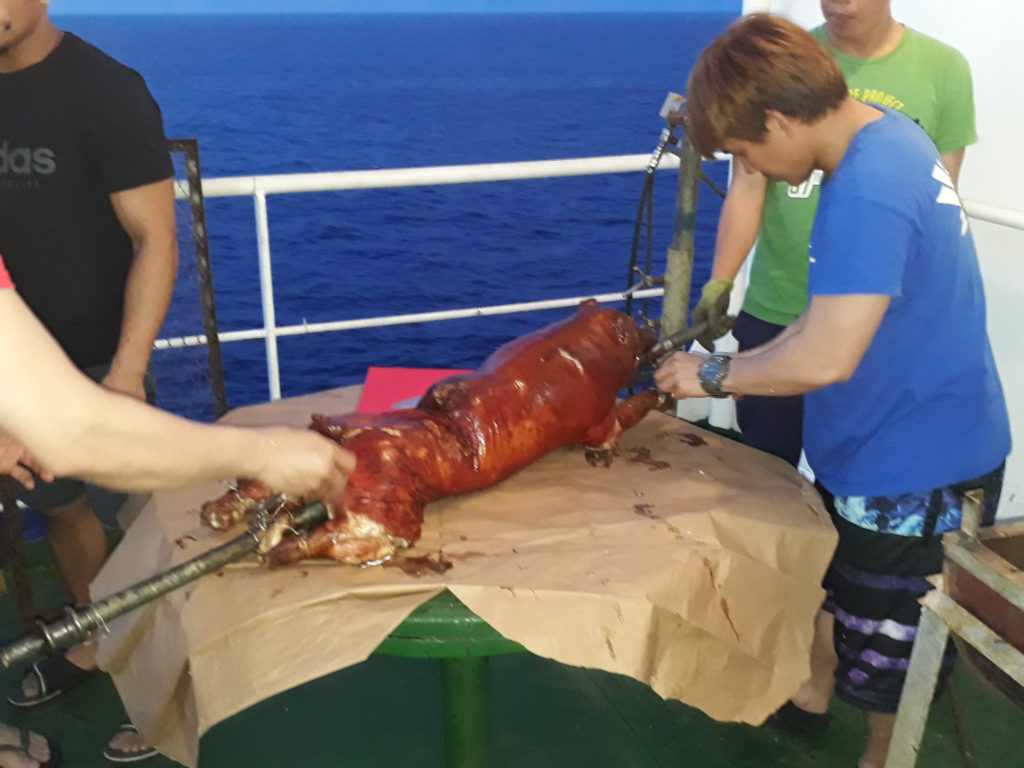 Chief
The first engineer on board. Not to be confused with Chief Mate, the first officer.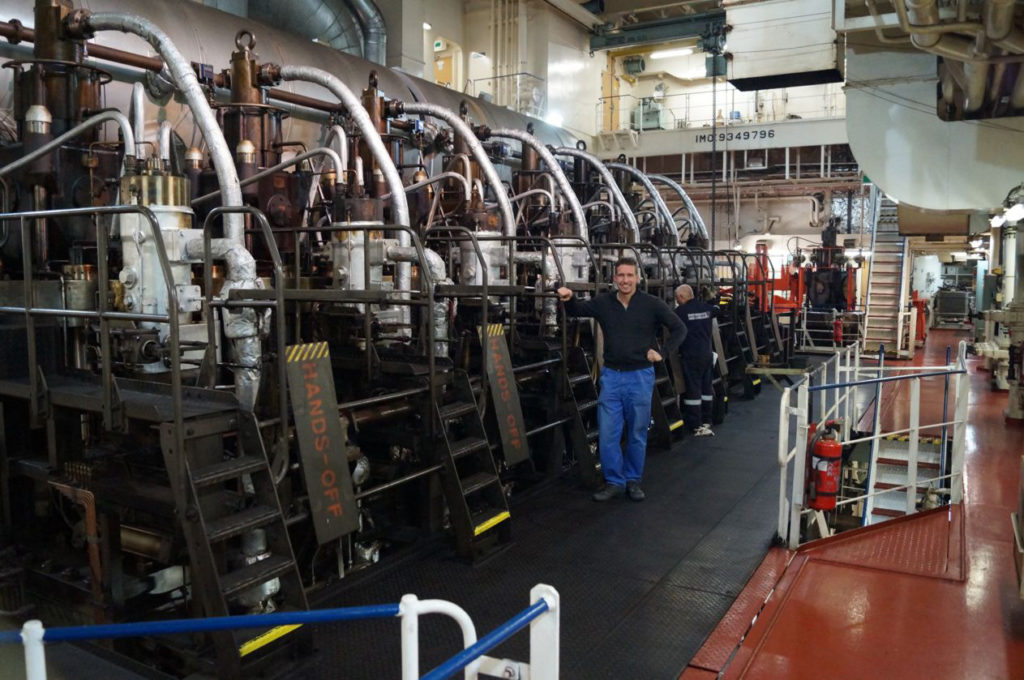 Children
A cargo ship is – to be honest – not the right place to stay for small children, as its facilities are not adapted to small guests. A minimum age is therefore often required, which can be vary from shipping company to shipping company. Children under 3 years are not accepted by any shipping company. The minimum age is often 6 years, often 16 or even 18 years.
Clothing
You can safely leave your suit and evening dress at home. Adjust your clothing to the respective area of travel. Sporty and casual is right. Even the captain does not necessarily show himself in uniform at sea. Be prepared for all weather conditions. Windproof jacket, sturdy shoes/shoes (see also equipment or packing list).
Currency
The smaller additional expenses are paid on board in EUR or USD; checks and credit cards are not accepted.
Customs
Valuables such as a camera, camcorder, camera, mobile phone or laptop, as well as tobacco products and spirits must be declared on a customs list before arrival at the port. A ship's officer will help you with any questions.
Deviation insurance
This is the insurance that covers the costs incurred to the shipping company if the vessel is forced to change course, for example to sail to the next port in the event of illness or accident of the insured. The amount depends on the size of the ship, the route and the age of the insured. The deviation insurance is arranged by us for you.
Doctor
There's no doctor on board the cargo ships. Therefore, it is important to start a freighter voyage only in good health.
Documents (also see Equipment)
Depending on the voyage, you will need different documents such as passport, visa, return ticket, etc., see also the notes under Characteristics of freighter voyages. Which documents are necessary for your voyage, according to our information, can be found in the respective voyage description. The passengers themselves are responsible for the procurement and completeness of the documents. Check with the relevant embassies or consulates and always mention the type of entry: by cargo ship. We will be happy to advise you on this.
Please note that our information applies to EU citizens and Swiss nationals. Nationals of other countries must obtain information on the applicable regulations from their embassies or consulates.
Electricity
220 V and sockets to German standards are common on cargo ships.
Elevator
Usually the very large ships have an elevator. Whether your ship has an elevator, please see the voyage description (or ask us).
Embarkation/disembarkation fees
These are fees charged for the services of the agencies, primarily in southern and non-European ports and at special places of embarkation such as the Kiel Canal. The agents take care in particular of compliance with the entry and exit regulations in the respective ports. Upon embarkation, the agencies will also provide you with information on times, berths etc.
In addition to the fees that we have to pay to the agencies/authorities on your behalf, in some ports there may be additional costs, e.g. for transport from the port entrance to the ship and vice versa. Please pay these costs directly on site. If these go through the accounting of the agencies/authorities, they often result in more than double the costs.
Also, if, for example, you are driven to the doctor by an agency employee, please pay immediately (see above).
Embarkation
The schedule of cargo ships is primarily aligned with the requirements of commercial shipping and is subject to fluctuations. Especially shortly before embarkation we will keep close contact with you. This requires that you inform us in time when and how we can reach you (also on the road). The ideal way to communicate is of course by mobile phone. But it must also be switched on.
Energy efficiency
The subject of energy consumption and environmental protection is rightly playing an increasingly important role. The use of heavy fuel oil for cargo ships is fortunately coming to an end. Shipping companies therefore use three different ways to reduce the sulfur content to almost zero: installing a cleaning system (so-called scrubber), switching to marine diesel or natural gas LNG.
Entertainment
There is no special entertainment program for passengers on board. Here you enjoy your vacation with leisure. Here you will find peace and quiet and perhaps finally have time to read the book that has long been waiting.
Take your laptop with you – if you like. Surely you will take a lot of photos, here you can edit/archive them right on board.
Maybe you prefer to observe the colorful hustle and bustle on board and in the ports. With a little empathy you will surely soon get in touch with the team and one or the other conversation will develop.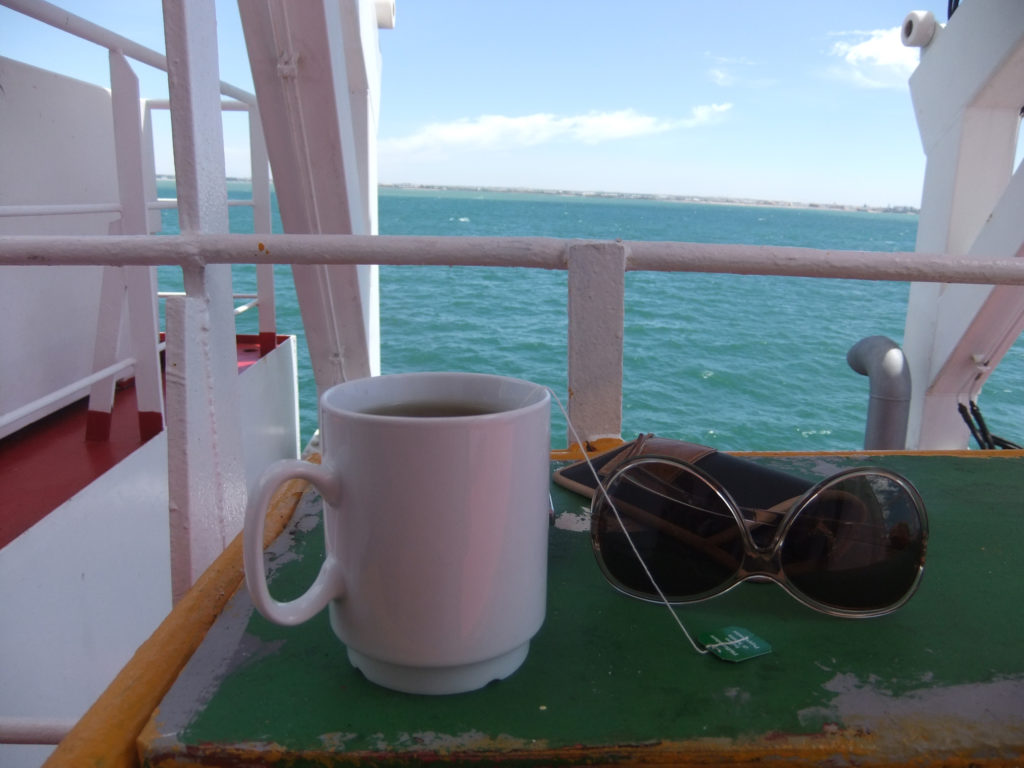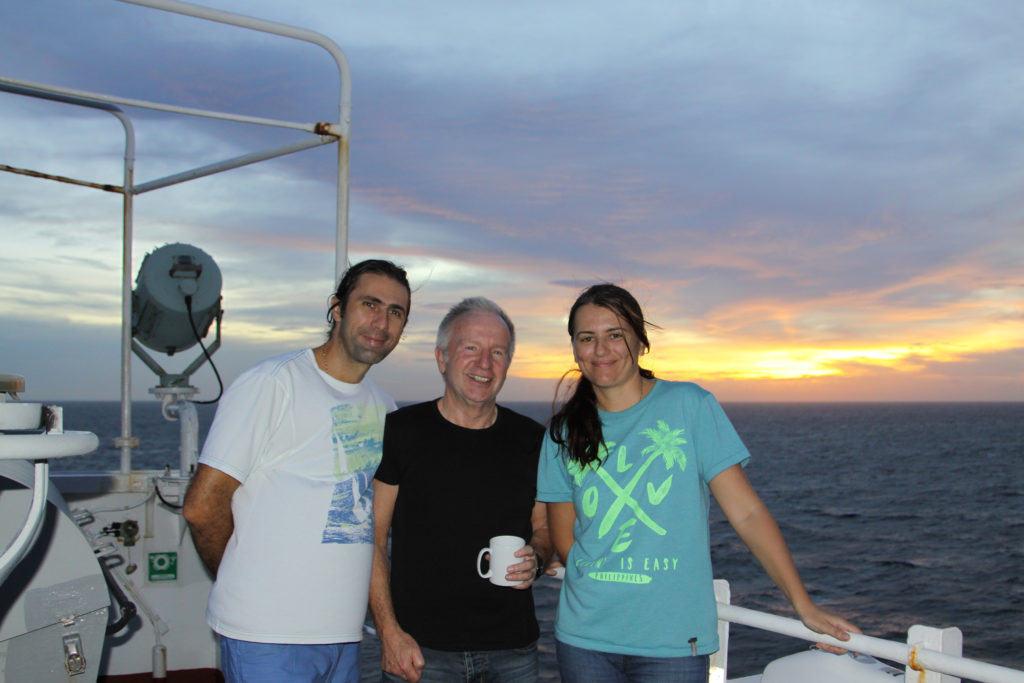 Equipment
In any case, you should take with you on your freighter voyage: All travel documents from us (in particular ticket / transport contract), passport, visa and return tickets if applicable, vaccination card if applicable, documents of your travel health insurance, medication, non-slip shoes, slippers for the cabin, smaller amounts in local currency for bus or taxi. Also: sunglasses, spare glasses, binoculars, sun cream, drinks for the first day on board, English dictionary.
Free time
Visits on the bridge, conversations with the crew, time and rest for yourself, reading books, listening to music, sunbathing and if available: use of sauna, fitness room and swimming pool. Observe the loading / unloading work from a safe place. Also interesting shore excursions are part of the usual leisure activities during a freighter voyage.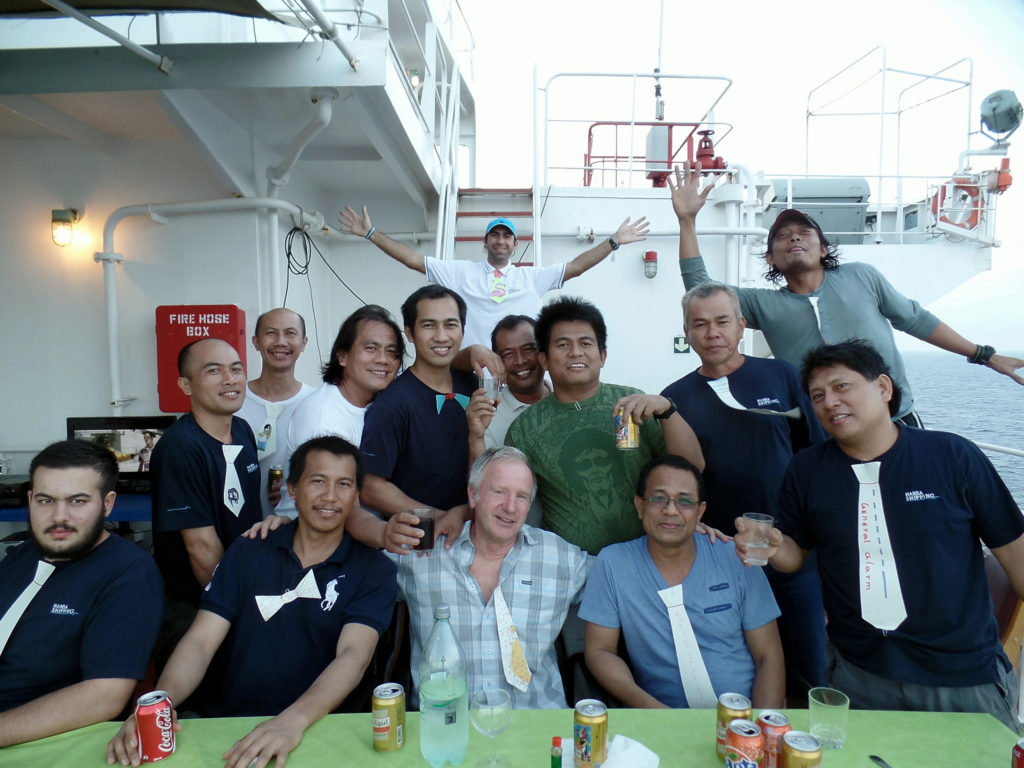 Gangway
Make sure that the gangway is firmly in place. Take only a small amount of hand luggage with you and ask the gangway guard for help with luggage transport on board. In general, however, you must be able to bring your luggage safely on board yourself. The gangway can be 20 m and longer and moves a little – so be careful.

Health
Freighter voyages can only be taken in good health, there is no doctor on board. Passengers must be able to walk without restrictions. Certain disabilities rule out transport for safety reasons.
On every ship there is an on-board pharmacy. But take enough of the medication that you are personally dependent on.

Insurance (see travel insurance)
Itinerary
The routes taken by the cargo ships depend on the cargo. Route changes, including skipping certain ports, are possible. In the foreground of a freighter voyage is the experience of modern seafaring.
Luggage
Usually 125 kg of luggage per person is allowed. In general, your complete luggage must be able to be brought onto the ship via the steep gangway and stowed in your cabin in a seaworthy manner, and crew members will be happy to assist you. Larger items such as moving boxes, furniture etc. must be shipped via a forwarding agency. Instead of large suitcases, we recommend the use of luggage bags, duffel bags, etc., which are easier to stow in the cabin.
Meals
Three warm meals are included in the tour price. Passengers eat together with the officers in the officers' mess. There are special arrangements for some inland voyages.
The following times are common on most ships:
07.30 h – 08.30 h Breakfast
10.00 h Teatime/Coffeetime
11.30 h – 12.30 h Lunch
15.00 h Teatime /Coffeetime
17.30 h – 18.30 h Dinner
Tip: Ask the steward or one of the officers for your place in the mess. Each of the officers has his regular seat and it is embarrassing if you choose the captain's seat.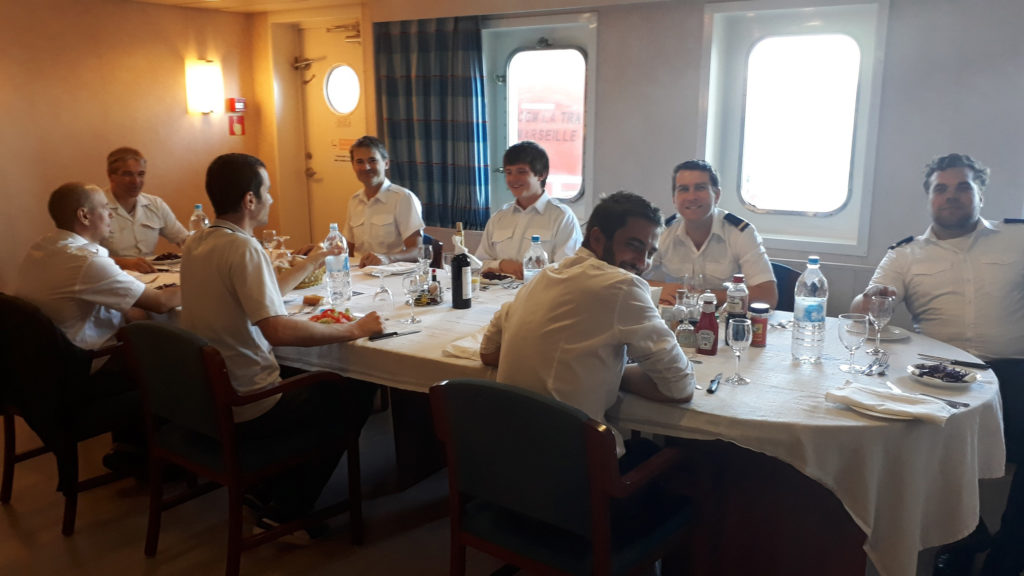 Passport
A passport is required for freighter voyages, an identity card is usually not sufficient even within Europe. For many countries the passport must be valid for 6 months after the end of the journey, for some countries even 12 months. In some countries a visa is required.
Pets
Dog, Cat & Co. must stay at home. Pets are not allowed on cargo ships.
Phone, email, Internet
Today the ships are equipped with SAT telephone and email. In principle, the means of communication are reserved for work on board and can generally only be used by passengers for short important messages by prior arrangement. The fees incurred are paid directly on board. On the larger ships heading overseas etc. there is more and more often an internet access for passengers and crew to send and receive emails. Find out on board about usage and costs. Please be prepared for limited availability on board and do not set up your office on the bridge. By the way: mobile phones only have reception near the coast.
Piracy
For voyages to East Asia, the Gulf of Aden must be passed. Some passengers ask about the danger of piracy in this region. Hence the following information:
The ships of the shipping companies represented by us either travel in a convoy accompanied by naval vessels, have a security service on board, or ensure the safety of crew and passengers through other protective measures. No attacks have been reported in this region since 2015.
Safety (on board)
The captain or an officer will show you the rescue equipment and instruct you in the safety regulations. Follow all instructions of the ship's crew. Caution: When docking and undocking and when loading and unloading the vessel, you should avoid the working areas. Never walk beneath suspended loads!
Watch from one of the upper decks!
Please also follow the safety regulations in the port.
Schedule change (Page: Characteristics of freighter voyages)
Shipping companies
We work together with a large number of mostly German shipping companies that allow passengers to be carried on their cargo ships. We act as travel agents, the contractual partners of the passengers are the shipping companies. Different conditions of carriage apply depending on the shipping company.
Shopping
On board you will find a small selection of daily necessities (e. g. soap, toothpaste, soft drinks, wine, beer, spirits and tobacco. They are available from the captain or steward for cash payment. Spirits and tobacco products are duty free outside the EU zone and therefore very inexpensive. On more and more ships there is a general ban on alcohol. We indicate this in the respective travel advertisement. The store usually has set opening hours, please check on board.
Smoking
Smoking is allowed on most ships. Please show consideration for the customs on board! Every ship has its own rules on this. Although there would be enough water around the ship to extinguish the fire, smoking in the bunk is taboo. Smoking is prohibited on deck and in the port area. Under no circumstances throw burning cigarettes overboard! The wind could take them back on board.
Steward
On larger ships a steward is often available to clean the cabin. Otherwise you are responsible for this yourself.
Swell
Please think about the swell when unpacking on board and store your personal belongings in the cabin and bathroom in such a way that they are properly tucked away. Do not use outside stairs in heavy seas. Non-slip, comfortable shoes are the right footwear on board.
We know "Vomex" as an effective remedy against sea sickness. Consult your doctor. For most people, sea sickness passes quickly, if it occurs at all.
Swimming pool (pool)
On most larger ships there is a small swimming pool (outside or inside). It is filled with sea water, therefore a pleasant water temperature and a corresponding water quality are prerequisites. Near the coast, for example, filling is typically avoided.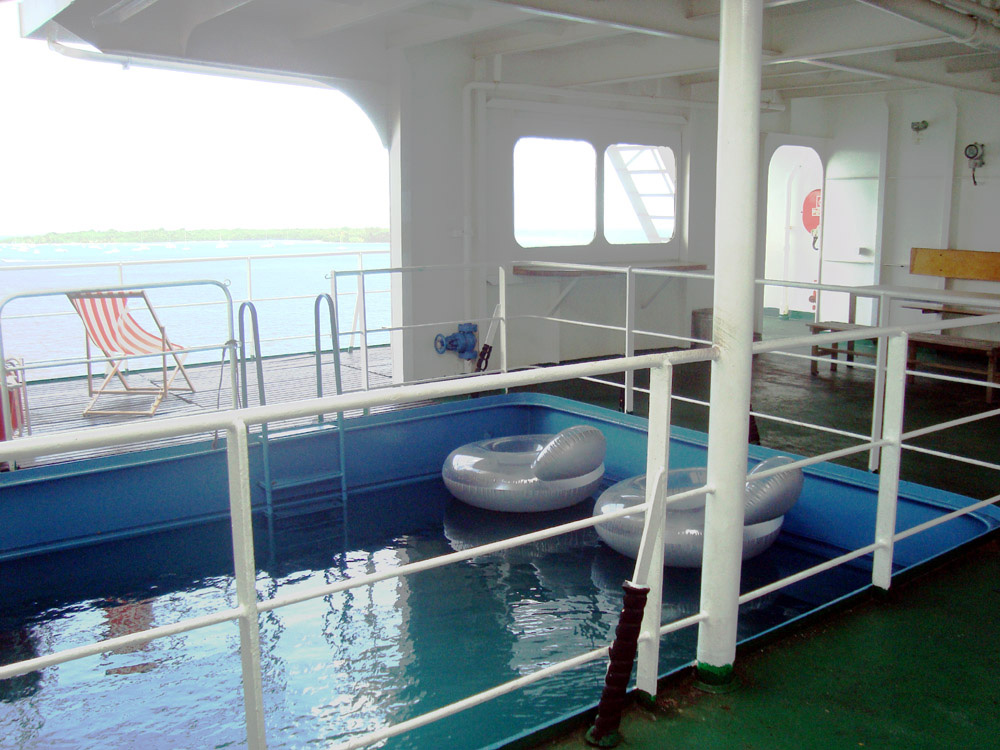 Taking pictures
On the ship you can take pictures as much as you like. Provided you don't get in the way of the crew working. However, there are ports and passages with restrictions (e.g. in the Suez Canal). Ask the ship's command. We would be pleased if you would provide us with some of your most beautiful pictures after your return.
Tips
It is at your discretion, to give "something" to the cook or the steward, for example. It's not expected. We always keep it like this: 1-2 EUR per day and person and then rounded up a little.
After consultation with the captain, you can – where permitted – buy a crate of beer at a barbecue or invite your "tour guide" to a restaurant on land if you have the opportunity. The crew will also be pleased if you leave a good (multilingual) DVD on board. Current newspapers / magazines are also gladly accepted. Often people are also happy about delicious, good chocolate or the sweets of the famous gummy bear company.
Travel Insurance
You will need health insurance for travel abroad with return transport (rescue flight) and liability insurance (standard liability insurance is sufficient).
Additionally, a travel cancellation cost insurance with travel interruption insurance is absolutely recommendable.
As a supplement a luggage insurance for completion is interesting.
The insurance policies can be taken out individually as required or as a low-cost package.
Easy and fast conclusion here: ERV.
Travel reports
Reports of our customers on the voyages we offer can be found here…
Contact us for travel reports in the form of books and DVDs.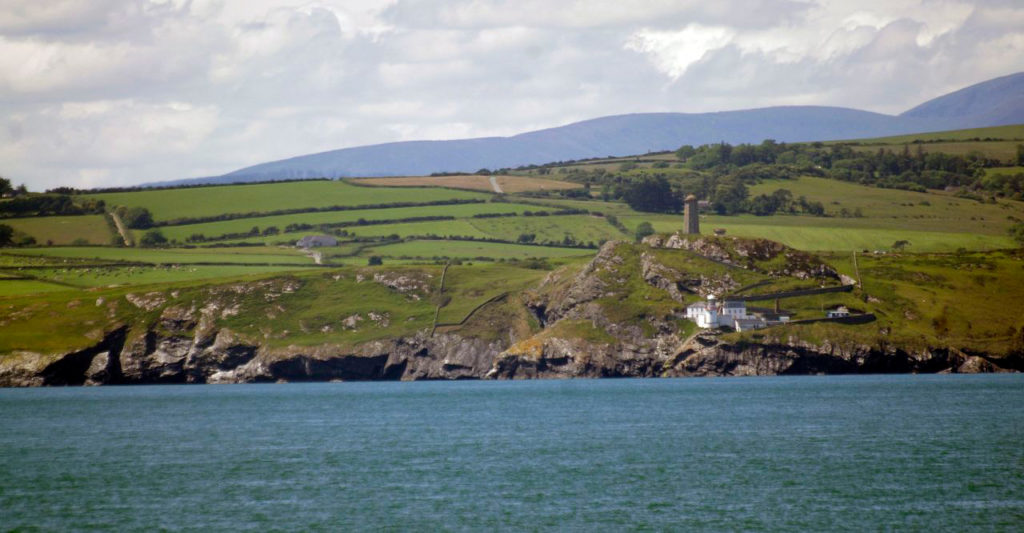 Vaccinations
Information on the necessity can be found in the voyage descriptions of the respective voyage. Vaccination regulations often deviate from the usual regulations for tourists. Vaccination regulations often deviate from the usual regulations for tourists. Additional vaccinations may be recommended. Please check the travel recommendations of the German Foreign Office and ask your family doctor.
Vegetarians / Vegans
You will participate in the normal on-board catering. The cook cannot take any particular wishes into account. The hard working crew usually prefers rather "rustic" food.
Vegan meals or special meals for people with intolerances are not available on board. Vegetarians can "leave out" meat and fish and eat the side dishes.
Sometimes the one or other "cookie" tries to consider wishes within the very limited possibilities. Please do not expect it.
Visa
If a visa is required, it will be specified in the voyage descriptions.
These visas are also required if no shore leave is desired.
Our information relates to German nationals.
Visa regulations can change at any time.
Washing
Washing machines and dryers are available on each ship and can be used as well. Ask the captain or steward for washing powder and the washing times.
Women on board
We not only have a female captain on board every now and then, but also many female passengers.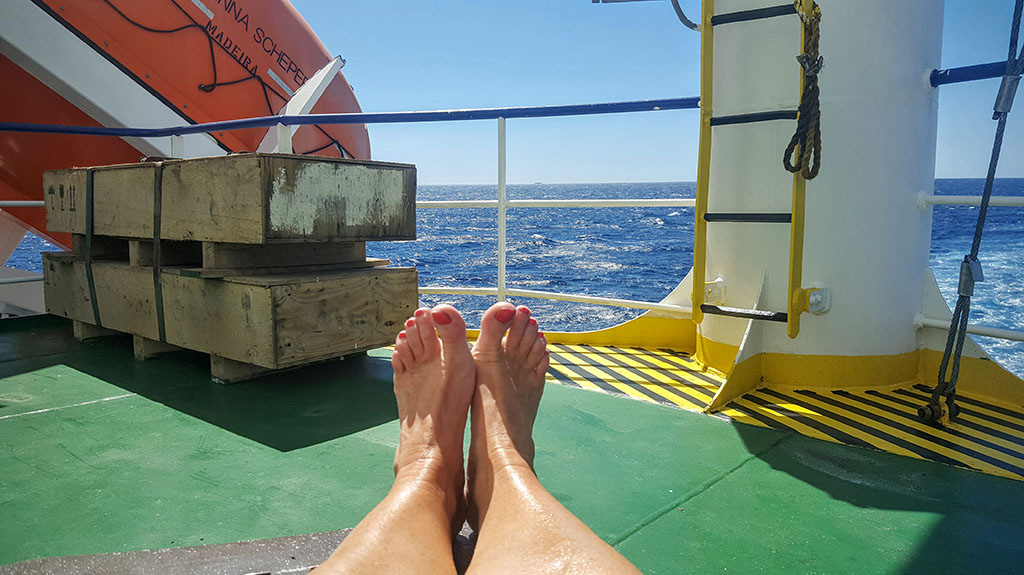 Working on board
We are occasionally asked if one can "work to the other side". This is not possible on the ships brokered by us for labor law and insurance reasons.This is not possible on the ships brokered by us for labor law and insurance reasons. But nowadays there is also no need for additional (unskilled) labor.
Yellow fever
This vaccination is mandatory for many countries such as Brazil, Panama, China, Suez Canal, etc. when entering by cargo ship. Please clarify before booking whether you will receive the vaccination. For older passengers and passengers with previous illnesses, vaccination is sometimes refused. Medical necessity and local authority practice may differ. In many cases an exemption certificate is not accepted by the local authorities. Especially for trips to South America, vaccination is mandatory, and passengers who are not vaccinated will not be carried.